How much water is used to produce our food?
| | |
| --- | --- |
| Food Product | Litres of water required (on average) to produce 1kg of Food Product. |
| Vegetables | 322 |
| Eggs | 3265 |
| Butter | 5553 |
| Chicken | 4325 (The most energy efficient meat) |
| Pig | 5988 |
| Sheep/Goat | 8763 |
| Cow | 15415 (The least energy efficient meat) |
A 2010 study by Netherlands academics Mesfin Mekkonen and Arjen Hoekstra of the University of Twente took global averages of the amount of water required to produce a kilogram of different types of food, with vegetables significantly outperforming other agricultural products.
http://www.ausfoodnews.com.au/2012/10/23/vege-eaters-save-water-new-research-figures-on-agriculture-water-usage.html
Below are some deliciously inspiring soups, pastas and a curry recipe from legendary cook Sara Dickins – Feel free to add your favourites!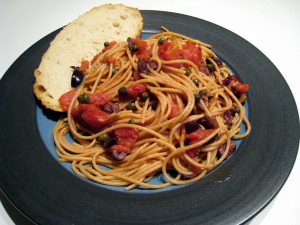 RAECHEL'S LENTIL AND VEGETABLE SOUP
2 tablespoons olive oil
1 small leek
2 cloves garlic
2 teaspoons curry powder
1 teaspoon ground cumin
1 teaspoon Garam Masala
1 litre vegetable stock
1 fresh bay leaf
1 cup brown lentils
450g butternut pumpkin, peeled and cut into 1cm cubes
400g can chopped tomatoes
2 zucchini, cut in half lengthways and sliced
200g broccoli, cut into small flowerets
1 small carrot, diced
½ cup peas
1 tablespoon chopped fresh mint
Spiced Yoghurt
1 cup thick plain yoghurt
1 cup fresh coriander leaves
1 clove garlic
3 dashes Tabasco sauce
Heat oil over medium heat. Add leek and garlic and cook 4-5 minutes or until soft and lightly golden. Add curry, cumin and Garam Masala and cook 1 minute or until fragrant. Add stock, bay leaf, lentils and pumpkin. Bring to boil and reduce heat to low and simmer 10-15 minutes or until lentils are tender. Add tomatoes, zucchini, broccoli, carrot and 2 cups water and simmer 10 minutes. Add peas and simmer 2-3 minutes. Serve with spiced yoghurt.
To make yoghurt combine all ingredients together.
CURRIED LENTIL SOUP

2 tablespoons Madras curry paste
1 large onion
2 teaspoons finely grated ginger
1/3 cup finely chopped fresh coriander leaves
3 litres chicken stock
1½ cups red lentils (300g)
½ cup yoghurt (250 ml)
2 tablespoons finely chopped fresh mint leaves
Cook paste in a large heated dry pan, stirring until fragrant.  Add onion, ginger and cook, stirring until ginger is soft.  Blend or process onion mixture and coriander until pureed.  Return onion mixture to same pan. Add stock and lentils, cook uncovered for about 20 minutes or until lentils are soft, stirring occasionally.
Combine yoghurt and mint in a small bowl and serve with lentil soup.
BOW TIES WITH ASPARAGUS AND GRILLED HALOUMI
Serves 4
250g bow ties
750g asparagus
250g haloumi cheese, sliced thinly
1 medium avocado
2 tablespoons coarsely chopped chives
1 tablespoon finely grated lemon rind
¼ cup (60ml) lemon juice
1/3 cup (80ml) olive oil
1 teaspoon sugar
Cook pasta in large saucepan of boiling water, uncovered, until just tender; drain.  Rinse under cold water; drain.
Meanwhile boil, steam or microwave asparagus until just tender; drain.
Cook cheese, in batches, in medium frying pan until browned lightly; drain on absorbent paper.
Place pasta, asparagus and cheese in large bowl with avocado, chives and combined remaining ingredients; toss gently to combine.
SPAGHETTI ALLA PUTTANESCA
Spaghetti with Harlot's Sauce (uncooked)
60g good black olives
1.25kg sweet ripe tomatoes, peeled and coarsely chopped
125ml extra-virgin olive oil
2 large cloves garlic, chopped
8 large fresh basil leaves
1 tbsp fresh chopped parsley
1 tbsp drained capers
Pinch of crushed dried red chillies, or to taste
500g spaghetti
Pit the olives, and cut them into small slices. Place the tomatoes in the serving bowl. Add the olives and the remaining ingredients to the tomatoes with ½ teaspoon of salt and mix well. Allow the sauce to marinate for at least 1 hour at room temperature, or cover and chill in the refrigerator for up to 3 days.
Bring water to the boil. Cook the pasta, stirring frequently to prevent sticking. Drain and add to the bowl with the sauce, tossing everything together thoroughly. Serve at room temperature.
ROASTED PUMPKIN AND ROSEMARY LASAGNE
1 butternut pumpkin
2 large spikes fresh rosemary
3 cloves garlic, minced
2 tablespoons olive oil
salt and pepper to taste
60g butter
4 tablespoons plain flour
4 cups milk
350g fresh lasagne sheets or
250 g dried spinach lasagne sheets
1 cup grated parmesan cheese
1 cup thick cream
½ cup extra grated parmesan cheese
Peel the pumpkin, remove the seeds and then cut the pumpkin into 1 cm cubes.  Put the pumpkin in a large mixing bowl with the rosemary spikes, minced garlic, olive oil and salt and pepper, and toss thoroughly.  Pour this mixture into an ovenproof baking dish and bake the pumpkin at 220 C for 25 minutes or until golden brown.
Meanwhile melt the butter in a saucepan, add the flour and stir while the flour absorbs the butter.  When the roux is golden brown, add the milk and whisk while reheating.  Continue stirring and simmering the white sauce until it is thick and glossy (about 8 minutes).  Add the roasted pumpkin mixture and mix thoroughly.
Place mixture on bottom of tray, sprinkle with cheese and then lasagna sheet…repeat about 4 times until mixture used.
Whip cream with little salt and spread over the top lasagna sheet, sprinkle with parmesan, cover with foil and bake removing the foil the last 15 minutes to brown cheese.
MIXED VEGETABLE KORMA
¼ cup (60ml) korma paste
1 tbsp black mustard seeds
1.5kg butternut pumpkin, chopped
1/3 cup red lentils, rinsed
2 cups (500ml) vegetable stock
500g cauliflower, chopped
½ cup (125ml) reduced fat cream
200g baby spinach leaves
Cook paste & seeds in a large heated fry pan until fragrant. Add pumpkin, lentils and stock, bring to boil; simmer, covered for 5 minutes. Add cauliflower; simmer covered, about 10 minutes or until pumpkin is just tender, stirring occasionally. Add cream & spinach, stir until spinach just wilts.