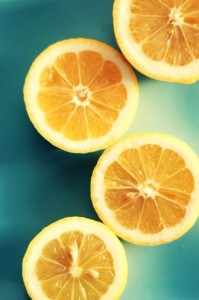 Lemon Linguine – Jamie Oliver
Ingredients
500g dried linguine pasta
juice of 3 lemons and zest of 1
6 tablespoons extra virgin olive oil
125g Parmesan cheese, grated
sea salt and freshly ground black pepper
a large bunch of fresh basil, leaves picked and finely chopped
a handful of rocket
Method

Cook the linguine in a generous amount of boiling, salted water for about 12 minutes, then drain thoroughly and return to the saucepan. Meanwhile, beat the lemon juice and zest with the olive oil, then stir in the Parmesan – it'll go thick and creamy. Season and add more lemon juice if needed. Add the lemon sauce to the linguine and shake the pan to coat each strand of pasta with the sauce (the Parmesan will melt when mixed with the pasta). Finish by stirring in the chopped basil and the rocket.
Lemon and Parsley Chicken – Donna Hay


Ingredients

1 tablespoon olive oil
4 small chicken breast fillets, halved lengthwise
cracked black pepper
1½ tablespoons olive oil, extra
2 tablespoons salted capers, rinsed and drained
1 teaspoon chilli flakes
1 tablespoon finely grated lemon rind
2 cloves garlic, sliced
2 tablespoons lemon juice
½ cup chopped flat-leaf parsley leaves
lemon wedges, to serve
rocket (arugula) leaves, to serve
Method

Heat the oil in a frying pan over medium heat. Sprinkle the chicken with the pepper cook for 5 minutes each side or until browned. Add the extra oil, capers, chilli, lemon rind and garlic and cook for 1 minute (or until cooked through). Add the lemon juice and parsley. Serve with the rocket and lemon wedges. Serves 4.
Lemonade – Taste.com
Ingredients
3/4 cup caster sugar
1 cup boiling water
1 cup lemon juice
2 cups ice cubes
Lemon slices and mint, to serve
Step 1
Place sugar and boiling water in a heatproof jug. Stir to dissolve sugar. Set aside to cool completely.
Step 2
Strain lemon juice into sugar mixture. Add 2 cups cold water. Stir to combine. Stir in ice cubes, mint and lemon slices. Serve.
Lemon curdy Pudding – Jamie Oliver
Ingredients
55g butter
115g sugar (vanilla sugar is nice)
grated rind and juice of 1 lemon
2 large eggs, separated
55g self-raising flour
285ml milk
Method

Preheat the oven to 200ºC/400ºF. Cream the butter, sugar and lemon rind in a mixing bowl. Add the egg yolks and flour and beat in, then add the milk and 3 tablespoons of lemon juice and mix well.
Whisk the egg whites in a separate bowl until stiff, then add the rest of the mixture. Mix it all well but don't over-mix it; you don't want the air to come out of the egg whites. Pour into a buttered ovenproof dish, stand the dish in a roasting tin about a third full of water, then bake in your preheated oven for about 45 minutes until the top is set and spongy and it's a nice golden colour.