Connect
---
Regular Events during School Term
Streets of the East Soccer Community 
Wednesdays
Contact Toli on 0438 087 206
---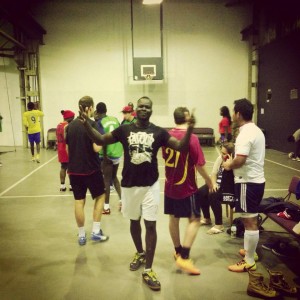 Streets of the East
Every Wednesday night Streets of the East runs a soccer comp, light meal and welcoming space at the Factory' Arena. (Short walk from Mitcham Station)
Streets of the East (Formally known as Eastern Youth Indoor Soccer Competition) is a community that exists to provide access to affordable recreation for young people in the East of Melbourne with a focus on increasing the participation of young people from a refugee background.
We strive to do this within a safe, welcoming and nurturing environment which enables each person to experience a sense of belonging and participation in the community.
We thrive on building a community based on mutual respect in which;
cultural diversity is celebrated
individual strengths are fostered
there is consistency in building relationships
leadership and participation are encouraged
Any enquiries contact Toli Morgan 0438 087 206.
Join us on Facebook or at our website