Image from unsplash.com by Garret Carroll.
Yesterday we shared in our annual Trinity Sunday prayer journey service. We had three interactive prayer stations to reflect at. This meditation can just as easily be enjoyed at home by just reading it through.
Where we Meet

Image from unsplash.com by Paul Evans.
Father – We meet at the doorway. The story of the two sons.
This story was told by Jesus and reveals to us the heart of our father.
We will place ourselves in the shoes of these two sons.
Read the story of the younger son. We place ourselves in his shoes.
Take a piece of soap and make the prayer of the younger son yours this morning:
Before I get the chance to make my confessions,
Father you have seen my return and run to me with a great embrace.
I make my confessions now, where I like this son have turned away.
I admit where I feel lost, unworthy, where I taste bitterness and hunger.
Spend a moment in reflection.
But before I even get to finish you are cleaning me up and putting new clothes on me, calling for a celebration. Father you place a ring on my finger as a sign of high position in the family and shoes on my feet that show I am no slave.
From top to toe, you celebrate my return.
Wash your hands in this basin and hear the celebration in your heart.
Read the story of the elder son. We place ourselves in his shoes.
Reading Luke 15:25-32
Pick up a rock and make the prayer of the elder son yours this morning:
I come near to your house, tired from serving.
I hear the music of celebration inside and it seems there is never a party for me.
Father you open the door and beg me to come in. But before I do, I confess the things that make me angry about this family – the things I don't understand about this life of faith.
Spend a moment in reflection.
Father you say, "My child, you are always with me, and everything I have is yours." You tell me to be glad, to celebrate the sounds of life next door, to know you are always for me.
Write your name on the rock. Place it back on the path of welcome and know that everything God has made and does is yours to enjoy.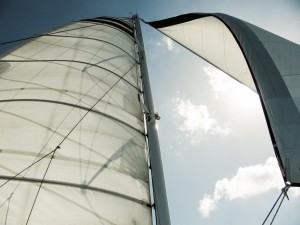 Image from unsplash.com by Kelly Sikkema.
Son – We meet at the call to peace. The banner of peace. 
This image of Jesus being a banner reveals to us the power of Jesus.
We will place ourselves before these two banners.
Read this verse about the banner of peace.
On that day, Jesse's Root (Jesus) will be raised high, standing as a rallying banner for the peoples. The nations will all come to him. His resting place will be glorious. Isaiah 11:10
A banner is displayed for the gathering of soldiers together. It is a sign of preparation for war and an encouragement to join.  It gives direction for where soldiers should stand, when they should march and who they should follow. It is held up at the time of victory.
Where might Jesus be calling you to his banner, to fight for peace under his leadership and protection? Reflect for a moment on a place of battle or conflict in your life or in life around you, that weighs on your heart today.
In the 17th century it was the custom in naval warfare to direct cannon fire at the opponent's ship's mast, thus disabling it. If all the ship's masts were broken the captain usually had no choice but to surrender. The banners (flags) were lowered as a sign of submission.  If the captain decided to fight on, this was marked by nailing the banners on the remnants of the ship's rigging – wherever it could still be visible to the rest of the fleet. This is where we get the saying, 'nailing their colours to the mast.'
As your prayer for peace, you may wish to nail your colours to the mast.
Pick up a flag and nail it to the wood as a prayer to hold on to peace, to not surrender to the destruction of yourself or others.  Spend some time listening to any further instruction or understanding Jesus may give you through his spirit.
Read this verse about Jesus the banner and commander.
We are reminded that Jesus' resting place – his headquarters – is a place of restoration like no other. One we can experience now and far more gloriously in the future when all is renewed.
Jesus is the banner and commander that we can come to as a stronghold, protector, refuge. Jesus is the one who is able to save and the one we can seek advice and counsel from.
 As you reflect on this picture of Jesus, rest in him. Seek out his advice and restoration.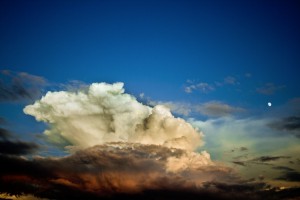 Image from unsplash.com by Garret Carroll.
Spirit – We meet in the cave. The Lord appears to Elijah.
This story of Elijah reveals to us the nature of the Spirit. We will place ourselves at this cave.
Read this verse from Elijah's story.
Elijah is hiding in a cave alone, after fleeing in fear for weeks and weeks.  God, with his eyes on his fugitive, enables Elijah to complete his chosen journey to the solitude of mount Sinai.  After a night's rest 'a voice' asks Elijah, "What are you doing here?"
Take a piece of paper and some chalk. Spend some time telling God the story of where you are at this morning – the state you are in. If you wish, you can draw a symbol of yourself and place it in the cave.
Read this verse as the story continues.
Elijah pours out his heart to God. He tells the story of why he has run away from his work. He shares his failures, fears, hopelessness, despair and aloneness. God calls Elijah to come out of the cave and stand before him. Elijah stays in the cave. What does he experience?
God could have revealed himself in any of these terrifying acts of nature as he had before. But in this moment, God reveals himself in 'demamah' translated as "a voice; a whisper; a gentle one."
What might this gentle whisper have said? This remains a secret. Take a moment to write in the sand what might have been whispered, and perhaps any whispers to your heart this morning. Wipe them away as you leave.
The wind, the earthquake and fire did not draw Elijah out of the cave, or make him cover his face in reverence. But the quiet voice of the Spirit did. Penetrating his inmost soul. As Elisha climbed outside the cave in awe, a voice again asked, "What are you doing here?" inferring the searching question, 'Are you where you should be?'
Take a moment to reflect on this question. Are you where you should be? Listen for the quiet whisper of the Spirit.
In the fearful experience and in the quiet whisper Elijah's heart was touched, and he was directed without delay to return to the place he had fled from – the land of Israel and did the work of God there.
 By Emma Morgan. papertakeme@gmail.com